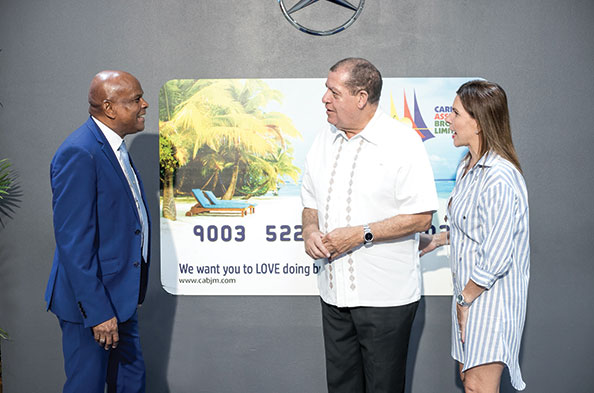 Caribbean Assurance Brokers Ltd. (CAB) is a multi-line insurance brokerage offering a full spectrum of insurance products and services. The company offers a wide array of insurance solutions, no matter the need. The categories of insurance coverage include International Health, Life and Travel, Employee Benefits, General Insurance, Local Individual Life and Health, and Credit Union Members Health Plan which are underwritten by local and international insurers for the past 14 years.
CAB believes that the customer is its most important asset, and in fulfilling their Mission to consistently delight their customers at each point of contact with their brand, they successfully relaunched the Caribbean Assurance Brokers Loyalty Programme in association with Silver Star Motors (Mercedes-Benz) at their Mercedes-Benz Showroom. CAB provides a value added benefit of doing business through the Loyalty Programme. This initiative is CAB's way of giving back to their over 50,000 customers, whereby customers receive discounts whenever they present their Loyalty Card at any of CAB's over 200 health care providers and merchant partners island wide. Categories include: Dental Offices, Medical Labs, Medical Practitioners, Optical Services, Pharmacies, Physio Therapists, Gyms & Spas, Restaurants, Salons and more!
The Honourable Minister Audley Shaw, Minister of Industry, Commerce, Agriculture and Fisheries, guest speaker at the event, commended the team at CAB for the significant role they have been playing in Jamaica's insurance industry. He further commended CAB for having the largest international health insurance portfolio in Jamaica, and their innovative response to their clients needs. He emphasized the visionary leadership and stated that "Government wants to see more of these kinds of initiatives across the private sector that will redound to the benefit and well-being of customers." He urged the public to become a member of the programme and take full advantage of the benefits that can be derived from it. Minister Shaw also noted the contnbution of CAB to the general economic well-being of the country.
Another speaker at the event Mrs. Jackie Stewart-Lechler, Managing Director of Stewart's Automotive Group, stated that "we are very proud to be a Merchant partner of the Caribbean Assurance Brokers Loyalty Programme and we are extremely excited to offer CAB customers an amazing discount of $500,000 when purchasing a new Mercedes-Benz vehicle."
The Official Launch event also served to highlight CAB's loyalty programme partners and the amazing benefits and discounts (up to 35% off) to be derived from them.
Another incredible feature of the Loyalty Programme is the alliance forged with Brawta Living, where CAB customers will receive an additional five percent (5%) discount off all Brawta Living deals.
CAB's Chairman and CEO, Mr. Raymond Walker, expressed his pleasure and satisfaction with the support received from CAB customers, partners and well wishers over the years and states that "Caribbean Assurance Brokers Loyalty Program will see even bigger and better partnerships, discounts and rewards which will result in more disposable income, massive savings and the overall success for all stakeholders and by extension, Jamaica, in terms of facilitating linkages with other sectors, which will help to generate sustainable growth momentum and overall economic stimulus."